The Virgin Islands are the ultimate cruising grounds: a scattering of beautiful islands, almost all within a days' ride, each with their own personality. Whether you want to snorkel a pristine reef in the U.S. Virgin Islands, explore a deserted island or enjoy a fresh mango daiquiri on a white sand beach, St. Thomas Boat Rental will provide you with the best of the best and it is certain to be the most memorable day of your vacation. Our experienced captains at St. Thomas Boat Rental know the best spots and will help you put together a custom itinerary created just for you.
---
CONTACT ST. THOMAS BOAT RENTAL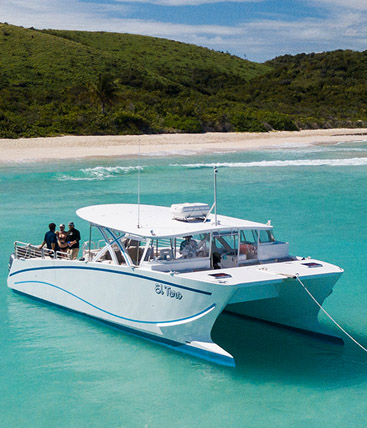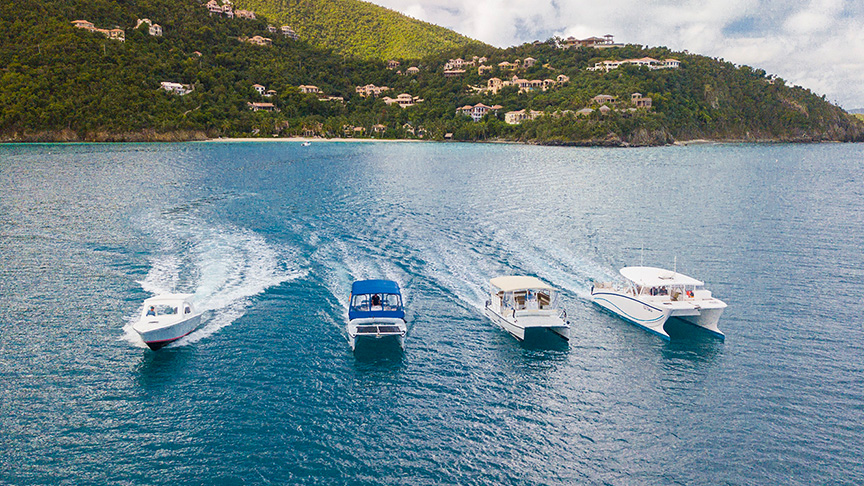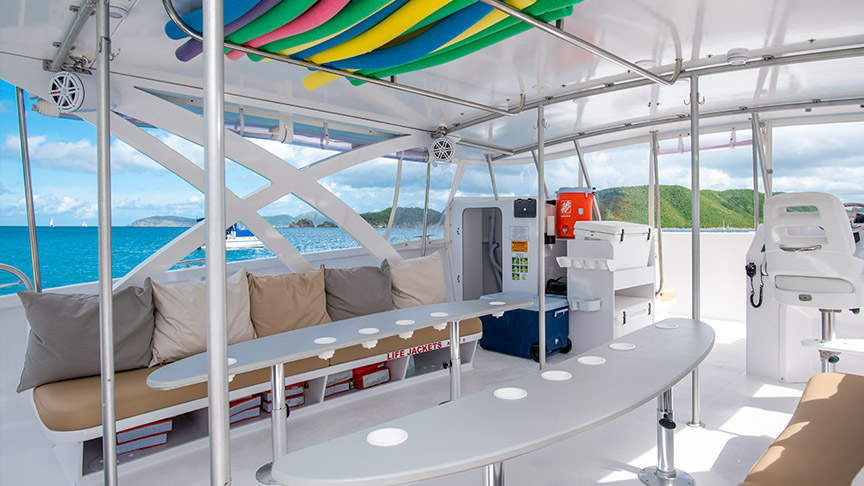 WE ARE RATED #1 ON TRIPADVISOR!
Spoil yourself on the newest and best charter boat in the Virgin Islands. USCG certified for up to 24 passengers.
With a 40' long X 17' wide platform you can be insured of a calm and comfortable ride that is second to none.
Plenty of seating in both shaded and sunny areas.
Join us as we head for Culebra! Enjoy stunning views during the voyage from St. Thomas to the Spanish Virgin Islands, followed by plenty of time to explore the quaint town of Culebra. We'll enjoy lunch at a local restaurant before heading for the island of Culebrita, home of some of the most beautiful beaches in the Caribbean.
Relax on the beach or explore the local lighthouse before we head back to St.Thomas. We meet at Sapphire Beach Marina at 8:00 sharp. Slip S-14. We usually return around 4:15.
---
El Toro was a beautiful and super comfortable boat for our group of 15 - awesome to have plenty of seating in both the sun and shade. Can't say enough great things about Alex and Kit - they came up with a perfect itinerary for us with lots of snorkeling and great secluded beach spots and kept it really fun for kids too. John was awesome to work with and very responsive. Our trip with them was by far the highlight of our already amazing vacation. Highly recommend!
We looked into doing the group tours but you get so much more value for the dollar by chartering a boat and St Thomas Boat Tour is the best priced of all the options. You get twice as much time as even the longest group tour and you can customize where you go and how long you stay at each location. Justin was our Captain and cant say enough good things about him. My family are not boating people and it was a very choppy day on the water, but Justin made them feel so relaxed with his demeanor and his overall knowledge and confidence and he took us to so many spots spread throughout so many locations (snorkeling coral, sea turtles, shipwrecks; private beaches; pizza boat stop or just hanging in the lagoon for a beer) that it made this the highlight of our incredible vacation, THANK YOU JUSTIN!!
Can not say enough about St Thomas Boat Rental, John, Captain Daniel and Jermaine made the day an easy and carefree way to see the islands. For cruise ship passengers who haven't figured it out yet, this is the only way to truly see the islands. Jermaine will get you to the dock, John will get you on the boat and Captain Dan will give you a historical, sightseeing and bar hopping day that you cannot believe until you experience it. Professionals, from the cab to the boat proprietor to Captain Dan (sorry partial to him). Away from the droves of tourists and the normal tourists hot spots. A Side of the islands that only few get to or dare to see. Thanks to St Thomas Boat Rental, John, Jermaine and Captain Dan for yet another amazing day!! From Tennessee